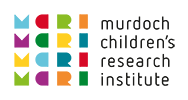 Research
Genetics of Speech Disorders
Researchers from the NHMRC Centre of Research Excellence - Translational Centre for Speech Disorders are currently investigating the genetic causes of severe speech disorders such as childhood apraxia of speech (CAS), dysarthria and severe phonological disorder. Although genetic factors are thought to play a significant role in speech and language disorders, little is understood on the genetic bases of these conditions. Currently, many treatments for speech and language disorders focus on symptoms only without targeting the underlying cause of the problem. Learning more about the genetic and neurobiological basis of speech and language disorders will help us identify who may be at risk and allow us to develop more targeted treatments.
Genetics of Stuttering

Researchers from the NHMRC Centre of Research Excellence - Translational Centre for Speech Disorders are calling for 3,000 participants aged seven and above who have experienced stuttering (past or present) to volunteer for the nation's largest ever 'Genetics of Stuttering Study'. The study aims to pinpoint the genes that predispose individuals to stuttering, which could revolutionise future research into the causes, treatment and prevention of the disorder. The study involves 15 key investigators at eight sites in Australia, the UK, the USA and The Netherlands. The Murdoch Children's Research Institute, Walter and Eliza Hall Institute of Medical Research, QIMR Berghofer Medical Research Institute, Griffith University and the University of Melbourne are coordinating the Australian arm of this international study. 
Stuttering is a motor speech disorder that affects the flow or rhythm of verbal communication.1, 2 An individual who stutters may repeat or prolong sounds and words in their speech. They might also have repeated physical movements, like lip tremors or eye blinking. Stuttering does not reflect an individual's language, academic or cognitive abilities.
Stuttering affects people from all backgrounds, levels of education and personalities. Stuttering typically starts between the ages of two and four years, and can persist into adulthood.
To learn more about this study visit https://www.geneticsofstutteringstudy.org.au 
1. Teesson, K., Packman, A., & Onslow, M. (2003). The Lidcombe behavioral data language of stuttering. J Speech Lang Hear Res, 46, 1009-1015.
2. Reilly, S., Onslow, M., Packman, A., Wake, M., Bavin E.L., Prior, M., Eadie, P., Cini, E., Bolzonello, C., & Ukoumunne, O.C. (2009). Predicting stuttering onset by the age of 3 years: a prospective, community cohort study. Pediatrics, 123, 270-277.
Proudly in partnership with