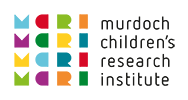 Meet Our Team
Dr. Victoria Jackson is a bioinformatician and post-doctoral fellow. She applies new statistical methods to complex genetic problems. Victoria is excited to apply her skills to childhood speech and language disorders.
Dr. Antony Kaspi is a bioinformatician and post-doctoral fellow. He uses novel bioinformatic methods to improve our understanding of the genetic processes involved in intractable childhood epilepsy using high throughput sequencing technologies.
Dr. Ruth Braden is a speech pathologist and post-doctoral fellow. Her research primarily focuses on elucidating gene-brain-behaviour relationships, by refining the speech and language phenotypes of children with genetic and neural pathologies.
Dr. Emma Baker is a post-doctoral fellow. Dr Baker is an autism specialist with extensive experience working with individuals with neurodevelopmental disorders that present with an autism phenotype, including Fragile X, Prader-Willi, Angelman and Chromosome 15 Duplication Syndromes.
Olivia Van Reyk, is a speech pathologist and research co-ordinator on the CRE Speech and Language. She has worked across a range of projects and gained expertise in speech and language phenotyping. More recently, Olivia's focus has expanded to population-based work coordinating and collecting normative data in school and early learning settings for the development of a digital speech assessment tool, and natural history studies.
Lottie Morison is a speech pathologist and research co-ordinator on the CRE Speech and Language. Lottie has worked in clinical and research settings as a speech pathologist. Lottie's areas of interest include motor speech disorders, augmentative and alternative communication, and early language and literacy development. Lottie is also a PhD student at the University of Melbourne.
Elana Forbes is a research co-ordinator and clinical trial coordinator with experience conducting research in neurodevelopment, family and child psychology, and neurodegeneration. She is also currently a PhD candidate at Monash University.
Mariana Lauretta is a speech pathologist and clinical co-ordinator of the genetics of speech clinic. She will complete her Master of Genetic Counselling at The University of Melbourne in 2022. Mariana has worked across clinical and research speech pathology settings, and is currently the Clinic Coordinator of the Speech Apraxia and Genetics clinic, a gene discovery clinic at The Royal Children's Hospital and MCRI.
Miya St John is a speech pathologist, PhD candidate and research assistant. She has experience working as a speech pathologist both clinically and in research. Miya has helped to explore the speech and language phenotypes of children with rare genetic conditions (e.g. NRXN1 deletions). She has also collaborated with others to explore the links between hearing loss and speech sound disorder.
Sarah Horton is a PhD candidate completing her PhD titled "Sub-phenotyping in a genome-wide association study of stuttering". She also works clinically as a Speech Pathologist and volunteers with SAY: Australia. Sarah has an interest in identifying sub-groups of stuttering to better inform future treatment trials.
Loretta Gasaprini (Lottie) is a PhD candidate with the Speech & Language group. Her PhD investigates early communication abilities as predictors of later language difficulties, utilising data from large cohort studies including GenV. She is also a Research Assistant for GenV.
Sophie Fontaine is a research assistant with the Speech and Language group. Sophie is also a medical student at Monash University.
Proudly in partnership with