Interested in studying a PhD on speech and language function in Angelman Syndrome?
Published

Wednesday, November 1, 2023 - 12:00 PM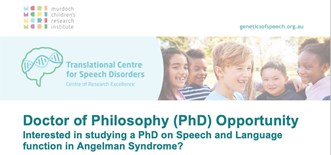 Communication is one of the most important determinants of quality of life. Children with neurodevelopmental conditions often present with debilitating speech and language deficits. Identification, characterisation and monitoring of communication deficits is core to high quality medical care.
Angelman Syndrome (AS) is a rare neurodevelopmental genetically in inherited condition. Symptoms include delayed development, gross and fine motor impairment, difficulty with feeding, swallowing and talking and epilepsy.
This project will leverage the latest bio technologies including signal processing and natural language processing alongside detailed clinical testing to provide object digital assessments of communication and cognitive function in AS.
This opportunity is offered by Audiology and Speech Pathology, Faculty of Medicine, Dentistry and Health Sciences, The University of Melbourne (Parkville, VIC).
Funding is provided by the National Health and Medical Research Council (NHMRC) Centre of Research Excellence – Translational Centre for Speech Disorders.
For more information and to submit an Expression of Interest, please click here.
Proudly in partnership with