A/Professor Stephanie Best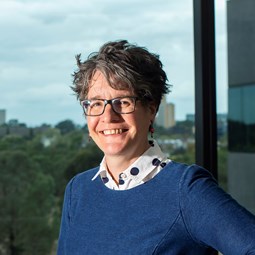 A/Prof Stephanie Best is the Senior Research Lead of Implementation Science at the Peter MacCallum Cancer Centre (Victoria) in the Department of Health Services Research, a joint appointment with the Victorian Comprehensive Cancer Centre Alliance (VCCC). She is also an embedded researcher with Australian Genomics, she leads the implementation science research stream. Stephanie holds an Associate Professor role with the Centre of Improvement and Innovation at Swansea University, Wales, UK.
Stephanie started her career as chartered physiotherapist at Guy's Hospital (London) then worked internationally before moving to Wales (2000) to take up clinical and management roles at the National Health Service (NHS). Here, Stephanie initiated innovative projects such as first point of contact physiotherapy. She was awarded a PhD (2014) from UWIC (Cardiff) in the field of Innovating in Rural Health and Social Care. She worked as a Senior Lecturer at Swansea University and Program Director and admissions tutor for the MSc Healthcare Management before moving to Australia (2017) to focus on research. Stephanie accepted a post-doctoral position with the AIHI (2017 an internationally renowned and world leading implementation science research centre.
Stephanie is an implementation scientist whose projects have included a variety of interventions (e.g. mixed methods, discrete choice experiments, systematic reviews, and a range of innovative qualitative methodologies) in differing of settings such as acute paediatric care, anorectal malformations, and expanded reproductive carrier screening.
Her most recent work focusses on the introduction and integration of clinical genomics and other evidence-based programs and interventions into practice.
Discover more about A/Professor Stephanie Best
Proudly in partnership with