Professor Sheena Reilly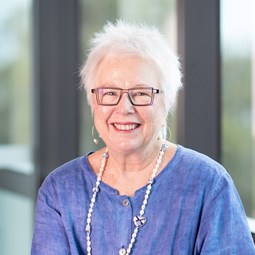 Professor Sheena Reilly is Distinguished Professor in the Health Group at Griffith University. She is an Honorary Fellow with the Murdoch Children's Research Institute, and an Honorary Professor in the Department of Pediatrics, University of Melbourne. She holds a B.App.Sc (Speech Pathology) from Curtin University and a PhD from the University of London, UK.
After completing her postdoctoral career at the Great Ormond Street Children's Hospital and the Institute of Child Health, University College London, Professor Reilly returned to Australia (1999), where she held key leadership appointments at the Murdoch Children's Research Institute, La Trobe University, University of Melbourne. In 2015 she moved to Griffith University to become the Inaugural Director, Menzies Health Institute Queensland, following which she was appointed Pro Vice Chancellor of the Health (2016-2021) and Acting Deputy Vice Chancellor Research from (August 2021- March 2022). 
Professor Reilly was the first Speech Pathologist to be awarded a Fellowship with the Academy of the Social Sciences in Australia (2011), and was an inaugural Fellow, Australian Academy of Health and Medical Sciences (2015). She is also a Fellow of Speech Pathology Australia, and the Royal College of Speech and Language Therapists UK. Professor Reilly was awarded a Member of the Order of Australia (AM) in the 2020 Queen's Birthday Honours, for her significant service to tertiary education, to medical research, and to paediatric speech pathology. In 2022 she was made a Fellow of the Queensland Academy of Arts and Science.  
Professor Reilly's research contributions spanning more than 30 years focus on common childhood speech and language disorders, understanding how spoken language develops, what goes wrong, and why it matters. In 2003 she established the globally renowned Early Language in Victoria study (ELVs) recruiting almost 2,000 8–10-month-old infants and families to a longitudinal study, which has received continuous project grant funding from the NHMRC as well as grants from the ARC. Many of the participants, now in their 20's, remain involved and contribute to long-term outcomes. She is among the most highly cited in her discipline with over 200 publications including peer reviewed articles in a broad range of high impact journals. She has received over $75M in competitive research grants.  The findings from ELVS and other landmark research studies have transformed current day understanding of the epidemiological and natural history of common and debilitating speech, language and literacy problems in children and informed policy and practice.  
Discover more about Professor Sheena Reilly
Proudly in partnership with